Website Integration Calendar Customisation | ResBook
System Settings - Website Integration Calendar Customization
This page shows a palette full of coloured squares beside each description which are customisable.
To access this Calendar Customisation page, click on Settings (the gear icon), then select [System Settings] and find [Website Integration]. Once it is open click [Configure The Calendar].
This page will then appear: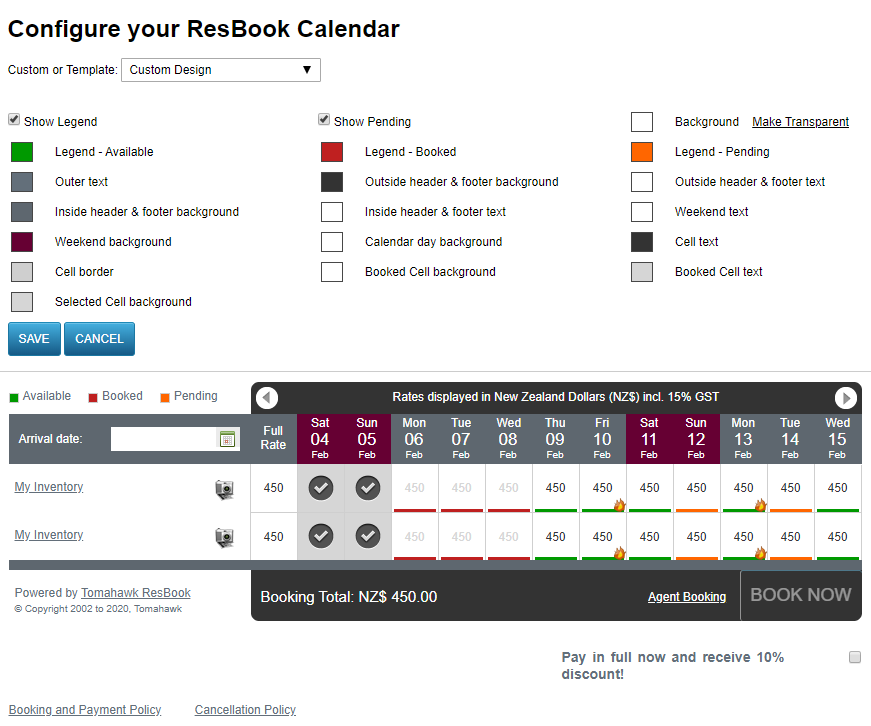 To change the colours, simply click on the square next to what you wish to change. A pop-up menu will then appear.
There are two options you can use to choose a colour from the pop-up menu:
| | |
| --- | --- |
| 1. Use your mouse and click on or drag the little circle around to choose your tone. Click on or drag the arrows up and down the coloured column to reproduce a different colour. Ensure you click [OK] to save the selected colour. | |
| 2. If you wish to have the same colours displayed on your booking calendar as your website, ask your web developers to supply you a list of colour codes used on your website. Use these codes and insert them into the # box. Ensure you click [OK] to save the colour. | |
All colour amendments can be previewed in the previewing box. Once you are happy with the colour selection click [SAVE] to save all the changes and preview the new changes on your website calendar.
Get to know ResBook and how it can save you time
With a decade old digital agency backing us, our team are regularly producing video to help you take on the world! From tips and tricks with ResBook, to useful software providers all the way to industry trends we are here to share what we know.
Stay tuned here for regular video updates!