ResBook Guest Booking Form Confirmation
Page 5 - Guest Booking Form - Confirmation
"Page 5" is the Confirmation screen and the last step in the Guest Booking Form. Here the guest is able to review selections they have made and go on to make more bookings or go on to book a rental car etc.
BOOKING CONFIRMATION
The first section on Page 5 is the Booking Details.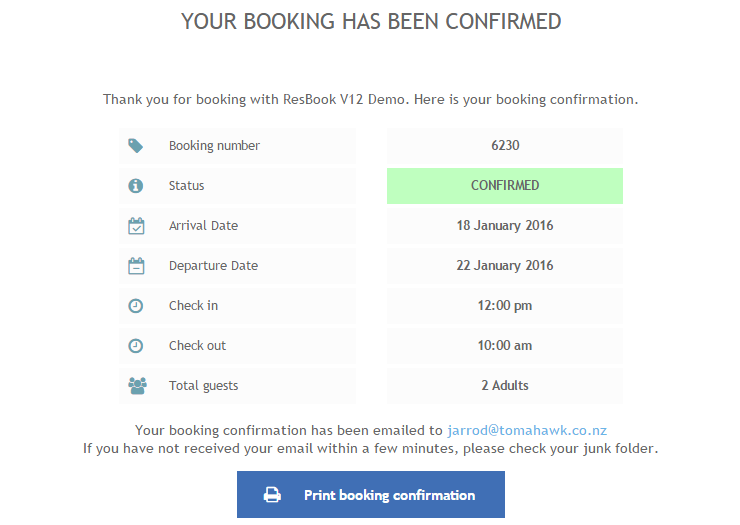 The heading will differ depending on whether or not you permit instant confirmation or not. If you have allowed for instant confirmation, then the heading will state "Your Booking Has Been Confirmed". If you have turned instant confirmation off, then the heading will be "Your Booking Had Been Requested".
The Booking details will cover:
Booking Number
Status of the Booking
Arrival Date
Departure Date
Check-in & Check-Out times
Total Number of Guests
A little message will appear below, confirming that an email has been sent out with these details attached. The guest also has the ability to print your booking by pressing the 'Print booking Confirmation' button.

Booking Selection & Republic Buttons
Scrolling down, we have the section called "Your Booking Selection".


The "Booking Selection" will show you the inventory the guest have booked, as well as the guest number and the total price for the inventory booked.
Any booked Services or Add-ons will appear in the "Booking Selection" section as well.
Lastly will be the final "Booking Total" with the final total cost of the entire booking.
Get to know ResBook and how it can save you time
With a decade old digital agency backing us, our team are regularly producing video to help you take on the world! From tips and tricks with ResBook, to useful software providers all the way to industry trends we are here to share what we know.
Stay tuned here for regular video updates!