ResOnline - Distribution and Mapping to Channels
Print
Distribution
Distribution is the area in ResOnline which gives you an overview of your established connections to channels/ OTA's and the available list of channels you can connect to using the Channel Manager
In the ResOnline homepage, click on 'Distribution.' or alternatively select the "Distribution" tab on the top right hand corner under your Property name.
You will be taken to a list where you are able to connect to the channels (provided that you have already established an account with those channels). All channels in the list are available at a flat rate fee as per your agreement with Tomahawk.
Mapping Rate Plans
As shown on the image below; Please follow the numerical sequence corresponding to the image as listed below to complete the mapping.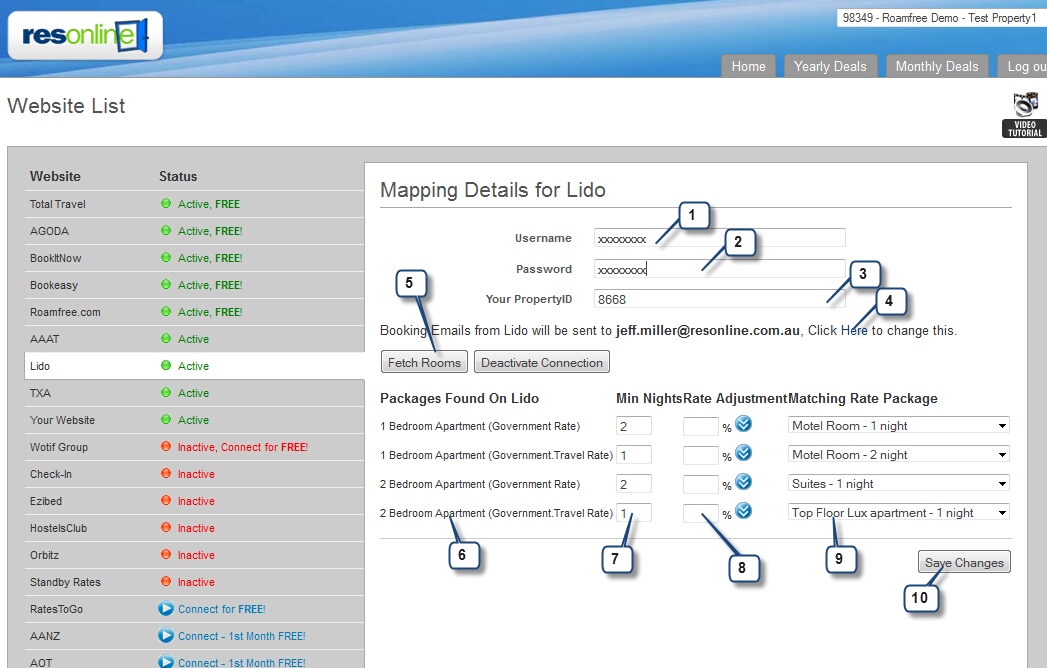 Enter your username and password.
The multi property login should be kept to the default "No".
Some connections require the property ID of your channel.
Check the e-mail that reservations will be sent to. If incorrect, click on the link to change.
Click "Fetch Rooms". ResOnline will now attempt to retrieve the rooms you have setup with your channel. If no rooms are retrieved, check your username and password with your channel representative again.
A list of rate packages retrieved by ResOnline from the particular distribution channel will appear.
Some distribution channels, such as Wotif, do not support different minimum stay periods – the minimum stay must be the same across the year. If this is the case, you will see the Min Nights column. When you are mapping the rate plans, you can enter the number of minimum nights each rate plan is available for.
ResOnline provides you with the ability to adjust your standard rate with a percentage increase or decrease. This is only used if a particular distribution channel requires a percentage reduction, or if you want to offer a lower rate.
Select the matching rate plan that you have in ResOnline for each rate plan returned from the distribution channel.
Once you are happy with the mapping, click "Save Changes". The ResOnline system will now update the distribution channel with an exact match of the rates and availability you have in ResOnline.
If the message prompt is visible which requires you to "Activate" the connection please select the "Deactivate connection" button next to the Fetch rooms button and then click again to "Activate the connection" and select the "save Changes" to update the channel with your Rates and Accurate availability.
Get to know ResBook and how it can save you time
With a decade old digital agency backing us, our team are regularly producing video to help you take on the world! From tips and tricks with ResBook, to useful software providers all the way to industry trends we are here to share what we know.
Stay tuned here for regular video updates!