Daily Run Sheet
How to use the Daily Run Sheet
The Daily Run Sheet is a new report, specifically created to provide a daily overview of guests. This will be handy if you need a quick daily overview of your guests and their requirements. The report focuses on displaying, booking ID, check in check out times, bookings allocated to rooms, PAX, bedding and importantly notes and or comments. Comments can be added in the sections provided before the report is generated, add the comments you would like to appear on the report.
Click on reports and choose the Daily Run Sheet from the menu.

Once you have selected the report from the menu, you have several fields that can be completed before you choose the days date and generate the report using the display button. There are options to include notes for:
Casual lunch note
Casual dinner note
Maintenance mode
Reception note
General note
The image below shows how these fields can be used.

The image below shows the notes entered into the various fields (listed above), after the report has been generated.

Once the report has been generated it can be downloaded locally on your pc, by using the export button and then printed.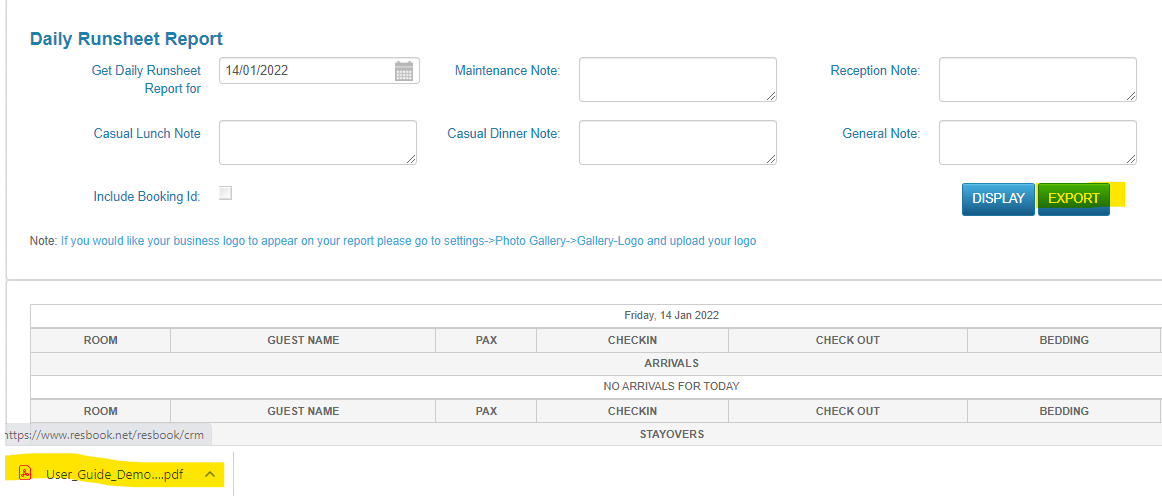 The image above shows the export button and the location the file downloads to using some browsers.