Website Integration Using ResBook
System Settings - Website Integration
Website Integration settings allow you to modify the ResBook website guest booking calendar and forms so you can customise your guest's booking experience.
To access the 'Website Integration' page, click on Settings (the gear icon), then select [System Settings] and find [Website Integration].
This page will then appear: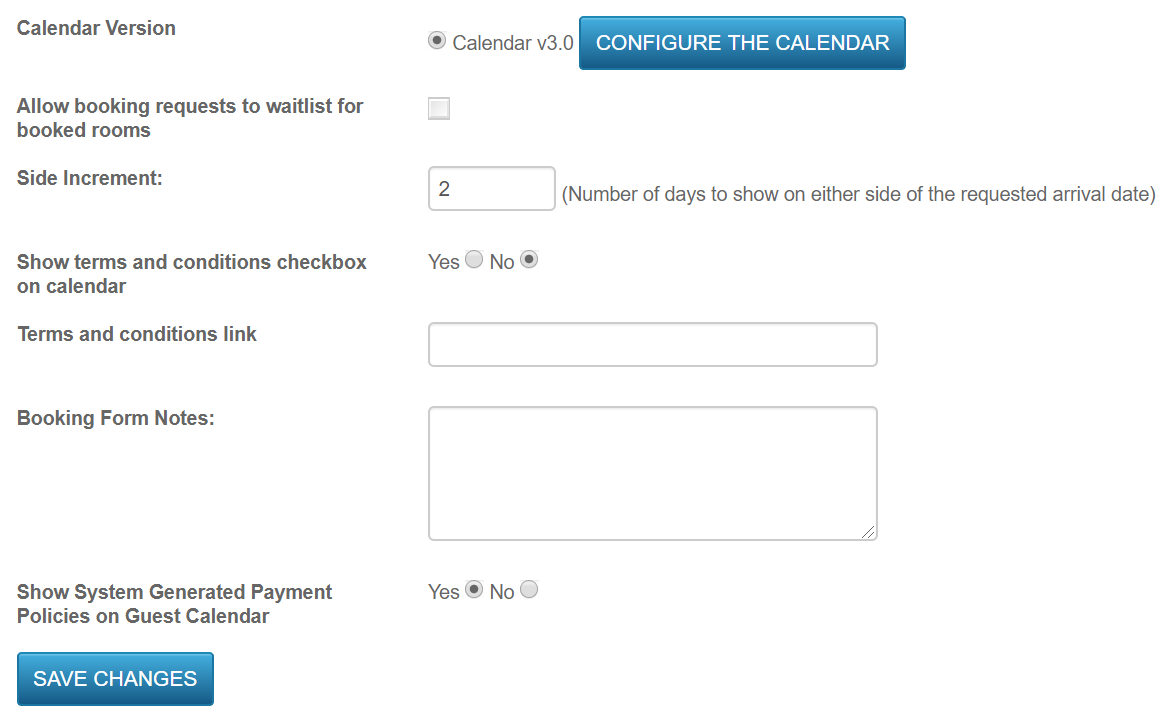 | | |
| --- | --- |
| Calendar Version | Customise the look of the calendar by clicking on [Configure The Calendar]. |
| Allow booking requests to the waitlist for booked rooms | This allows New Request bookings to be waitlisted for already booked rooms. |
| Side Increment | A minimum of 6 days will be shown on the calendar + 3 days thereafter at a default. This setting allows you to increase the number of days, provided that your iFrame calendar can fit on your webpage. |
| Show Terms and Conditions checkbox on Calendar | This will show an "Accept Terms and Conditions" checkbox at the bottom of the calendar that a guest must tick before proceeding to the booking forms. |
| Terms and Conditions Link | If you select 'Yes' on the Terms and Conditions checkbox, please provide your website link with these terms and conditions. |
| Booking Form Notes | These notes are included in the Booking and Payment Policy of the ResBook Calendar and will be placed at top of the popup in bold lettering. |
| Show System Generated Payment Policies on Guest Calendar | Check 'Yes' if you want Payment Policies to appear on the Booking Calendar. |
Get to know ResBook and how it can save you time
With a decade old digital agency backing us, our team are regularly producing video to help you take on the world! From tips and tricks with ResBook, to useful software providers all the way to industry trends we are here to share what we know.
Stay tuned here for regular video updates!