System Settings - Connect to MYOB
Provided that you have the MYOB accounting software on your computer, go to Settings (the gear icon) then select [System Settings] and scroll to find [MYOB]
Please note: If MYOB is not on your ResBook account, please submit a request.
Step 1: Connect
Click on [Connect to MYOB] and follow the instructions to connect.
Step 2: Operating ResBook
When using ResBook to generate invoices, this can be done in 2 forms:
| | | | |
| --- | --- | --- | --- |
| Type | Scenario | ResBook user | Updated to MYOB |
| 1) Guests check-in | Full payment is taken when a guest(s) checks in | Invoice is generated; payment is collected at the counter and entered into ResBook. The invoice is balanced. | All invoices sent to MYOB would be displayed under Sales Register > Open Invoices. |
| 2) New Bookings | New Bookings enter ResBook | Invoices are generated soon after bookings enter/is entered into ResBook. | All invoices sent to MYOB would be displayed under Sales Register > Open Invoices. |
Establish which method you will use for invoicing before filling out the details as on MYOB settings.

Step 3: Configuring MYOB for ResBook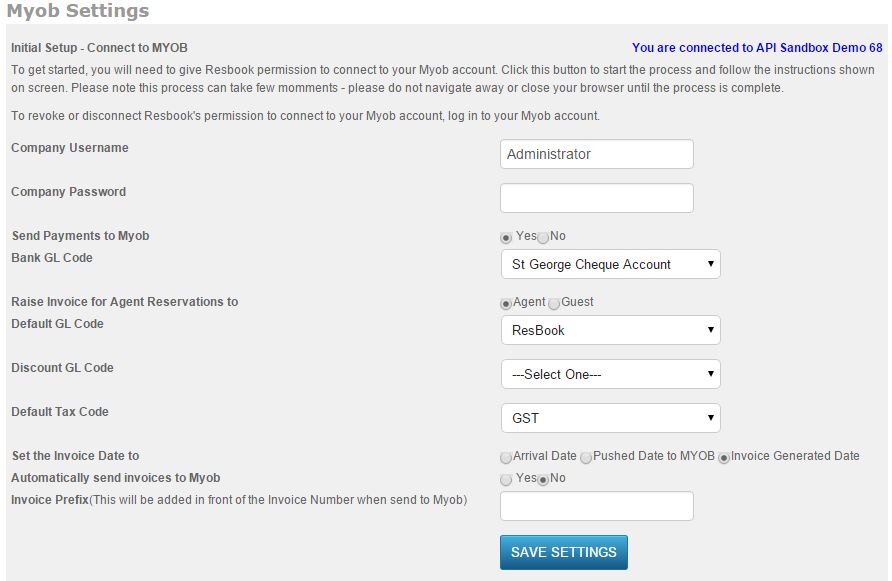 a) Simplest tracking: To keep things simple and have all bookings mapped to one GL code, you will need to assign the GL code created within MYOB and to the 'Default GL Code' as per screenshot:
b) Comprehensive tracking: If you wish to record each stock unit, please generate these under MYOB's Accounts List for all rooms/properties you are selling.
In Resbook, go to Settings (the gear icon) and select [Stock Conigurations] then find [Stock Units] then select the stock unit you wish to record and under the 'Name/Description' tab, enter the GL code next to the 'GL Code' field.


Please note: Any stock units not marked with a GL code, will be recorded automatically against the Default GL code (as indicated above).
Step 4: Selecting how ResBook updates invoices to MYOB

| | | |
| --- | --- | --- |
| Setting | Update Type | Explanation |
| Arrival Date | Automated | All invoices for bookings generated soon after you check guests in will be updated to MYOB overnight. (Step 4.1) |
| Pushed Date to MYOB | Manual updates | ResBook user manually updates MYOB . |
| Invoice Generated Date | Automated | Applies to all bookings to which the ResBook user has generated invoices for. These invoices are sent to MYOB overnight. (Step 4.2) |
To automatically send invoices to MYOB, switch to [Yes]. Then save the settings.
Get to know ResBook and how it can save you time
With a decade old digital agency backing us, our team are regularly producing video to help you take on the world! From tips and tricks with ResBook, to useful software providers all the way to industry trends we are here to share what we know.
Stay tuned here for regular video updates!