Airbnb Listing Settings - Rate, Occupancy, Lead Time | ResBook
Airbnb - Listing Settings (Rate, Occupancy, Lead Time)
Print
ResBook users who have Airbnb connected to their accounts will now be able to make listing adjustments within ResBook, without having to unsync the listings in Airbnb.
Go to Settings > Portals > Airbnb > Settings

You will notice a wide range of settings for each listed stock unit that is connected to Airbnb.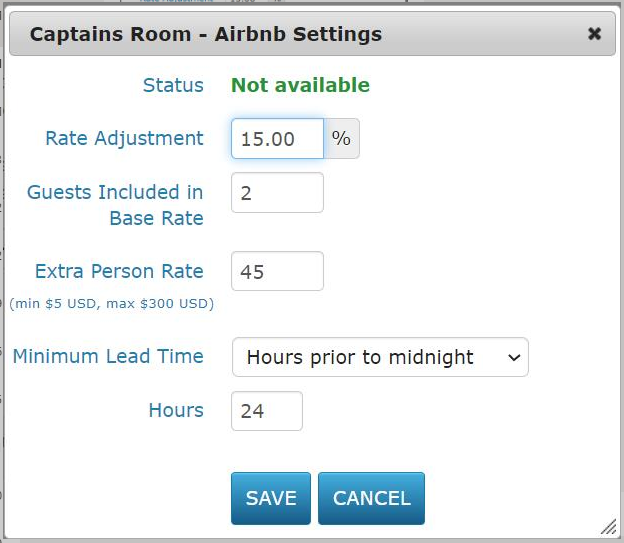 Status:
Approved - Listing was approved by Airbnb
Rejected - Listing does not meet minimum requirements. Please add the missing requirements and push the listing to Airbnb again
Rate Adjustment:
Enter a percentage you wish to adjust your rates by for that property and click Save. This will alter the rate for that stock unit on Airbnb. All rates will be in whole numbers, so for example, if after rate adjustment, the rate of a stock unit comes to a number with a decimal place, it will be rounded to the next whole number. (e.g. $265.75 will become $265).
The percentage value can be different per listing.
The percentage value can be positive or negative.
Once you enter the value on the screen, ResBook will apply it to your rates and notify Airbnb of the change.
You need to have your ResBook account connected to Airbnb and the listing pushed up, before the ability to enter the percentage value is provided to you.
Guest Included in Base Rate: number of guests included in the base rate
Extra Person Rate: rate charged to any guests over and above the guests included in rate value
Minimum Lead Time: the ability to set the number of hours prior to midnight as well as 2,3,7 day periods. If you wish to set the value to 1 day, please select 24 hours prior to midnight
Get to know ResBook and how it can save you time
With a decade old digital agency backing us, our team are regularly producing video to help you take on the world! From tips and tricks with ResBook, to useful software providers all the way to industry trends we are here to share what we know.
Stay tuned here for regular video updates!